December 13, 2018
|
Print this Page
H16 vs. 5202
If your vehicle uses H16-size bulbs, you may find some conflicting information when trying to replace them with LED bulbs. The primary source of confusion when upgrading stock incandescent H16 bulbs is the fact that the name "H16" has been used for two distinct types of bulbs, in different regions of the world. In Japan, the H16 is actually an H11-style bulb, with a standard H11-size base, running at a lower power level. However, in Europe, "H16" was used to refer to the newer tab-lock style 5202 bulb.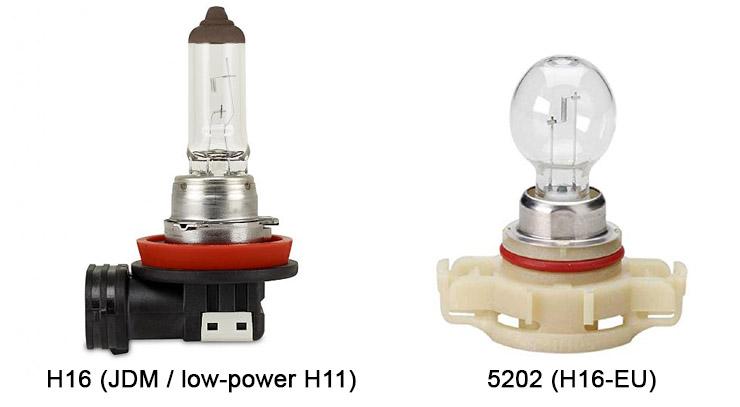 ---
If you are looking to replace your incandescent H16-size fog light light bulb and your vehicle was manufactured by a Japanese company, like Toyota, Nissan, Lexus, and Subaru, use our H11-size LED bulbs. If your vehicle was manufactured by an American company, like Chevrolet, GMC, and Ford, use our 5202-size LED bulbs instead.
5202 (H16-EU) vs. 2504 (PSX24W)
So what is the difference between 5202 (H16-EU) and 2504 (PSX24W) bulb sizes? They are both tab-lock style bulbs, but they have differences in the alignment tabs on the base. If you are trying to replace a 5202 bulb with a 2504 bulb or vice versus, you can shave down the alignment tab on the base in order to make it compatible with your factory connector.
---
Diode Dynamics fog light LED replacement bulbs are a great way to add dramatically better visibility, and a more modern look. They are also 100% plug-and-play, and require no splicing, wiring, or complicated conversion kits.
If you have questions about any of the information discussed here, please contact us today.
To see all the Diode Dynamics LED upgrades available for your ride, check out of Vehicle Finder tool!
---
H11 bulb cross reference: H11B, H11, H11SU, H11ST, H11XV, H16 (H11 style, without side tabs)
5202 bulb cross reference: PSX24W, H16-EU, 5202, 2504, PS24W, 5201, 9009