Diode Dynamics is a manufacturer of automotive LED lighting products. Founded in 2006, we focus on the development of unique products, incorporating the latest LED and optical technology.
By directly manufacturing many of our products in St. Louis, Missouri, we are able to carefully control quality, while bringing unique items to market faster than the competition. We back our products with an industry-leading no-hassle warranty, and the best service and support experience possible.
Whether it's replacement LED bulbs, full LED assemblies, multicolor accents, or unique lighting control modules, Diode Dynamics is the leader in specialty LED lighting.
Our Story
I'm Paul McCain, and I started Diode Dynamics in 2006. Like many car guys, it started for me at the age of 16, when I tore apart a 2003 Hyundai Tiburon to build a custom turbocharger. Around that time, LEDs were just gaining traction. I always had a huge interest in technology, so the next upgrade was LED accent lighting, built from the parts bins at Radioshack. I sold a few kits to some friends, and I started adding more lights to the catalog. In 2012, it was time to get serious, with our first fulltime location in St. Louis, Missouri. We found success through our product lineup, installation videos, and customer service policies that placed convenience first. We kept growing, adding many great products and employees!
However, as we grew, we kept having issues with product quality. We had started importing LEDs, relying on designs from overseas, like most sellers still do today. It's a lot easier to buy it (and rebrand it) than to build it! But if you want the best quality and function possible, you have to build it yourself. As I learned more about the products and how they were made, I decided we could do it better.
In 2014, we moved to a bigger facility and hired our first engineers, allowing us to design and manufacture products in America, fully within our control. Starting with just one product, we quickly expanded - first with simple LED circuit boards, then to sidemarker lamps, and finally to combination lamps and off-road lighting. We had some bumps along the way, but we kept pushing forward, making heavy investments to add unique capabilities that would allow us to produce the best lighting products possible. That includes a light tunnel to measure beam patterns, environmental test equipment to make sure our products last, and the latest optical and electrical design software to create lighting that truly performs better.
It's been a long road over the last decade, but we now have unique, focused capabilities, along with our lasting automotive passion. We are the largest specialty-application aftermarket lighting manufacturer in the United States, and we are honored to also produce LED components for some great vehicle brands. I'm committed to pushing it further, so we can make more unique and exciting lighting products, incorporating the newest components and materials. It's my goal to provide enthusiasts everywhere with performance lighting technology!
Our Mission
We make unique, high-quality, automotive lighting products.
We empower our fellow enthusiasts through education.
We provide the best service in the industry, through well-trained and knowledgeable staff, and policies that always place convenience first for our customers.
We are automotive enthusiasts, and we love awesome lighting.
Our Team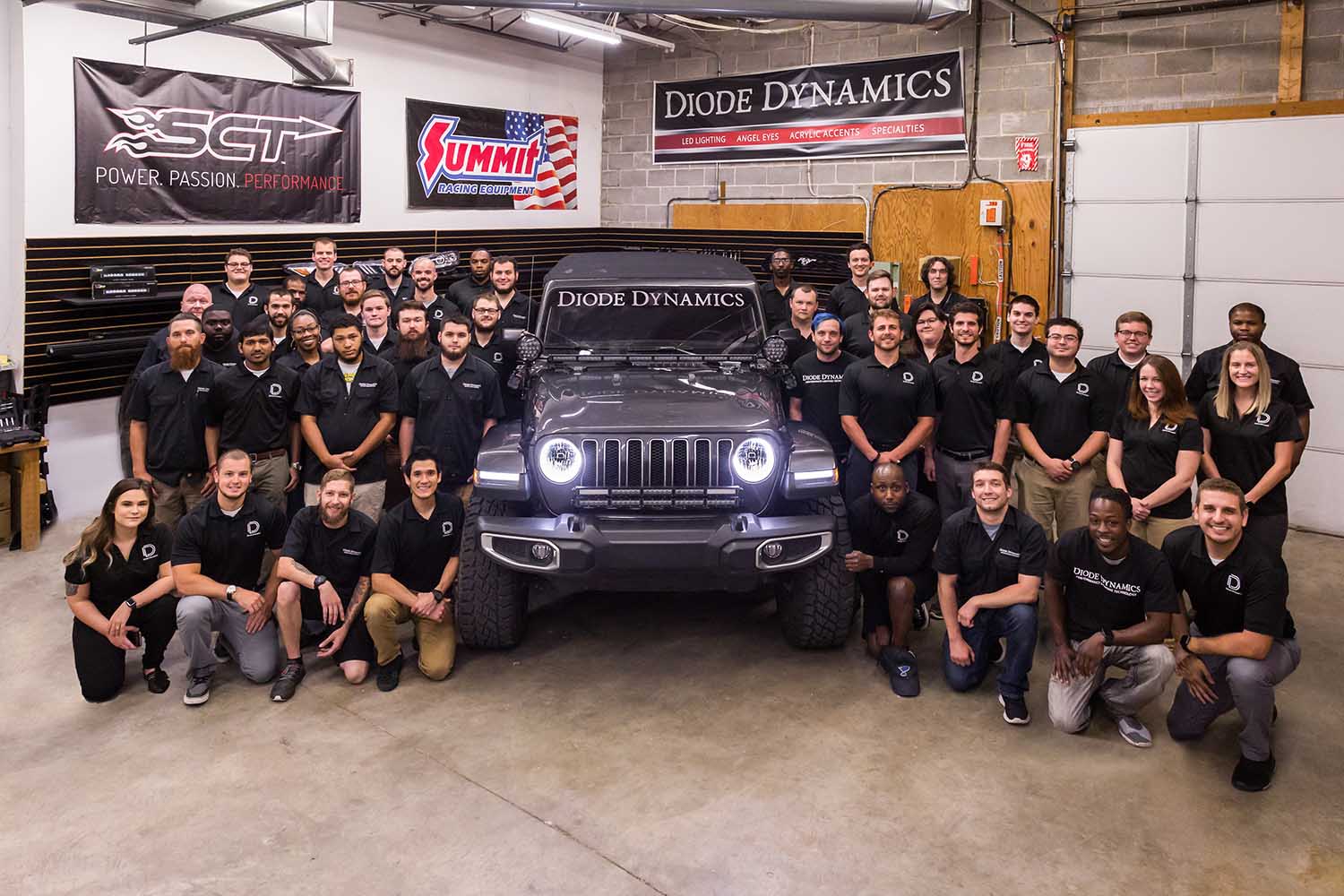 The Diode Dynamics team is an energetic group of 70 people, who work hard to make quality lighting, with the best service possible. We take pride in our quality products, our customer-focused service, and our work in going "against the grain" to manufacture products here in USA.
In order to achieve the standards our customers expect, all of our staff is trained in electrical theory, 12-volt power, lighting systems, and electronics manufacturing, through a rigorous ten-week academic course. By technically understanding what we produce, we have a shared understanding of the requirements and opportunities that exist, allowing each of our employees to contribute to higher levels of quality and innovation.
As a privately-held company, we strive to provide people-focused benefits, for all levels of our staff. We keep a professional culture, but we still have fun with company events and monthly lunches, in a young and energetic workplace.
If you're interested in joining the Diode team, please visit our Careers page to find any current opportunities.
Our Facilities
Diode Dynamics is based in St. Louis, Missouri. Since 2014, the company has been located in the Earth City business park, with direct access to Interstate 70 and 270, and close proximity to USPS, UPS, and FedEx hubs.
We currently operate out of two buildings, with total space of 54,000 square feet.
4200 Shoreline Drive
4200 Shoreline: Main headquarters.
Test garage and media studio
Showroom and meeting spaces
General offices
13743 Shoreline Court
Engineering and compliance testing.
ESD-safe electrical laboratory
DOT/SAE compliance environmental test chambers
Goniometer and integrating sphere for photometric testing
Engineering offices
Home of Diode Dynamics Manufacturing and distribution.
Automated SMT lines for PCB assembly
Wire assembly and manual workstations
Ultrasonic and hot plate welding
Conformal coating and encapsulation
Support shop with CNC machining, cutting, and press
Warehouse and distribution
Facility Tours
We offer free-of-charge walking tours of our facilities anytime during regular business hours (10-5, M-F). All ages are welcome, but no cameras or recording devices are permitted. Large groups, please call ahead.
Alternatively, we host an annual open house each fall, where you are welcome to visit and tour our building. Please see social media for updates regarding this annual event.